i-Care range, for Neurostimulation and ElectroMyoGraphy (EMG)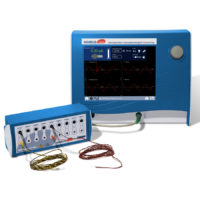 Intraoperative Neuromonitoring
Neurosurgery
ENT surgery
Central/Peripheral Nervous System


Why our products?
Reliable, Flexible and User Friendly
With the evolution of medicine and techniques, the challenge of securing surgical results and postoperative consequences has never been greater. The i-Care range consists of two devices which allow neurostimulation or the combination of neurostimulation and intraoperative neuromonitoring. These devices are currently used in the departments of neurosurgery, otology, and spine surgery.
Neurostimulation allows for the transmission of an electrical impulse through the central or peripheral nervous system via stimulation probe. It helps the surgeon identify and locate areas of the cortex and nerve fibers.
IntraOperative NeuroMonitoring (IONM) allows the surgical team to monitor muscle responses. Whether at the central or peripheral nervous system level, surgical procedures using an IONM device are intended to aid in identifying and verifying the motor and sensory integrity of the nerves.
Developed and manufactured according to European standards in France
The i-Care product range has been under development in France for over 22 years in collaboration with medical experts. The manufacture of neurostimulators and stimulation probes is carried out in our own premises in the southwest of France, as well as at the premises of our French subcontractors. Our equipment is EC (European Conformity) and certified by the notified body "GMED", a subsidiary of the LNE group under EU Regulation (European Union) 93/42/CEE.
Quick start for maximum efficiency
The intraoperative neurostimulation and neuromonitoring interface meets the need of both beginner and expert users alike. Every i-Care device offers a simplified interface as well as a user operation guide.