Nimbus i-Care - IntraOperative Neurophysiological Monitoring device
Dedicated to surgeons for a daily use
IntraOperative nerve monitoring systems enable surgeons to identify, confirm, and monitor motor nerve function to help reduce the risk of nerve damage during various procedures, including general and ENT surgeries.
The NIMBUS i-Care is an IntraOperative NeuroMonitoring (IONM) and NeuroStimulator device. It is dedicated to surgeons for daily use in the operating rooms, as well as for neurosurgery, otology and spine surgery.
Two simultaneous modes are available: « Stimulation » and « Monitoring » with pre-determinated and personalized settings which ensure a quick start and secure use of the device by the medical staff.
When nerve monitoring is necessary, Innopsys probes are placed in the appropriate muscle locations in the patient for the procedure being performed.
These electrodes are connected to the Nimbus i-Care, which continuously monitors EMG activity from muscles innervated by the affected nerve. When a particular nerve has been activated or stimulated, the Nimbus i-Care system warns the surgeon and operating room staff, providing both visual alerts on the color touchscreen monitor and audio feedback to help minimize trauma to the nerve.
Surgeons can use monopolar, bipolar or tripolar stimulating probes and dissection instruments to assist in early nerve identification and confirmation. These tools may be used to locate, identify, and map the particular nerve and branches, as well as verify nerve function and integrity.
By combining sophisticated hardware electronics and intuitive software, our Nimbus i-Care help surgeons perform critical procedures while preserving nerve function and improving patient safety.
Easy-to-use
Touch screen and validation button
Intuitive and simple interface
Predefined settings for clinical indication or for personal sessions
EMG box can be positioned on the patient bed
Remote control for distance use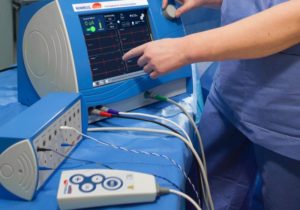 Safe stimulation
Continuous display of programmed parameters, delivered current intensity and measured current circuit impedance
Audible indicator that demonstrates the correct circulation of the stimulation current
Continuous adaptation of the delivered stimulation current regardless the measured impedance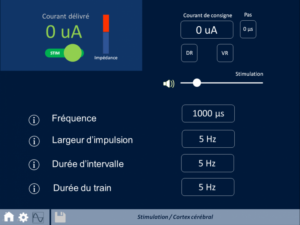 Safe EMG monitoring
EMG needles lead-off detection
Ability to identify and personalize EMG recording channels
Continuous monitoring with over eight EMG channels, latency and amplitude measurement
Detection and deletion of the stimulation artefact
Audible warnings for EMG signals
Easy to read graphics: EMG signal freezes when it exceeds the adjustable threshold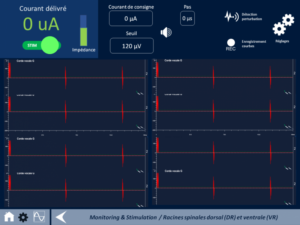 Flexibility
EMG curve recording, saving and data exportation by USB port to computer under PDF and CSV formats
Importation and saving of customized configurations
Continuous intensity setting from the sterile zone via remote control or via touch screen
Modification of each setting: current intensity, current waveform, pulse duration, frequency range, burst duration and inter stimulus interval (burst mode)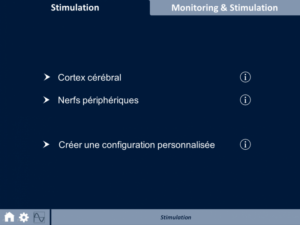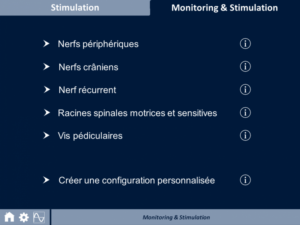 Nimbus i-Care
Monitoring
Up to 8 monitoring channels (EMG)
Current intensity range
0 - 16 mA (32 mA peak to peak)

Current Waveform
Rectangular biphasic or monophasic signals
Choice of the polarity for the first phase

Pulse duration range
60 – 16000 µs
Frequency range
1-800Hz
Eport of EMG curves
USB port
Dimensions
36.5*28*27cm
Weight
10.5kg
Before using the device, please carefully read the instructions from the Nimbus i-Care user manual.
Medical devices are health products which have, due to the European regulation, the CE 0459 marking.