The choice of flexibility and precision
The stimulation probes available with the NIMBUS i-Care device are produced in France and have been developed by Innopsys in collaboration with experienced users.
Their exclusive designs allow selective stimulation of nerve structures in neurosurgery, ENT and orthopaedic surgery, complex and delicate interventions such as mapping by stimulation of the cerebral cortex, stimulation of the peripheral nerves during neurotomies as well as during surgeries with monitoring of EMG muscle responses to approaching cranial nerves or spinal roots during spasticity correction surgeries.
The unique malleability of Innopsys electrodes allows the distal part to be adjusted according to the surgeon's position and the patient's anatomy in order to precisely reach and stimulate the targeted nerve structure safely.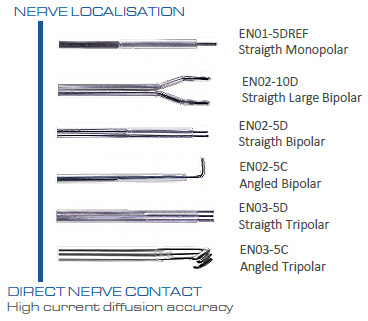 Caution
Before using the devices, please read carefully the instructions from the probes instructions manual.
Those medical devices are health products which have, due to the European regulation, the CE 0459 marking (except bipolar Y stimulation probe which marking is ongoing).