i-Care stimulation probes
The stimulation probes of the i-Care range of products allow for the transmission of an electrical impulse through the central and peripheral nervous systems thanks to the NIMBUS i-Care or NIMBUS i-Care Lite neurostimulators. They assist the surgeon in identifying and verifying the integrity of nerve fibers via direct electrical stimulation.

I-Care stimulation probes – the flexibility of use
The exclusive design of the stimulation probes of the i-Care product range is suitable for many complex and delicate uses, particularly in neurosurgery, otorhinolaryngology, and spine surgery. For instance, it can be used to search for cranial nerves, such as the facial nerve, during skull base surgeries; or it can be used to monitor vocal cord muscle responses and the select nerve fibers in spasticity surgery.
The stimulation probes' tips will diffuse the current in a monopolar, bipolar, or tripolar fashion. The greater the tip count, the greater the selectivity of the electrode. In this way, a monopolar probe is more widely used to locate a nerve through a volume of tissue whereas a tripolar probe allows direct electrical stimulation in contact with the nerve structure. The surgeon can thus select stimulation probes according to his needs and the patient's anatomy.
The malleability of the large straight bipolar probe makes it possible to modify the distal angle up to 90° in order to adapt the probe to the patient's anatomy and to facilitate access to the targeted nerve structure.
The renowned users of i-Care products regularly share their experience through scientific publications. These readings provide insight into the many uses of the i-Care stimulation probes.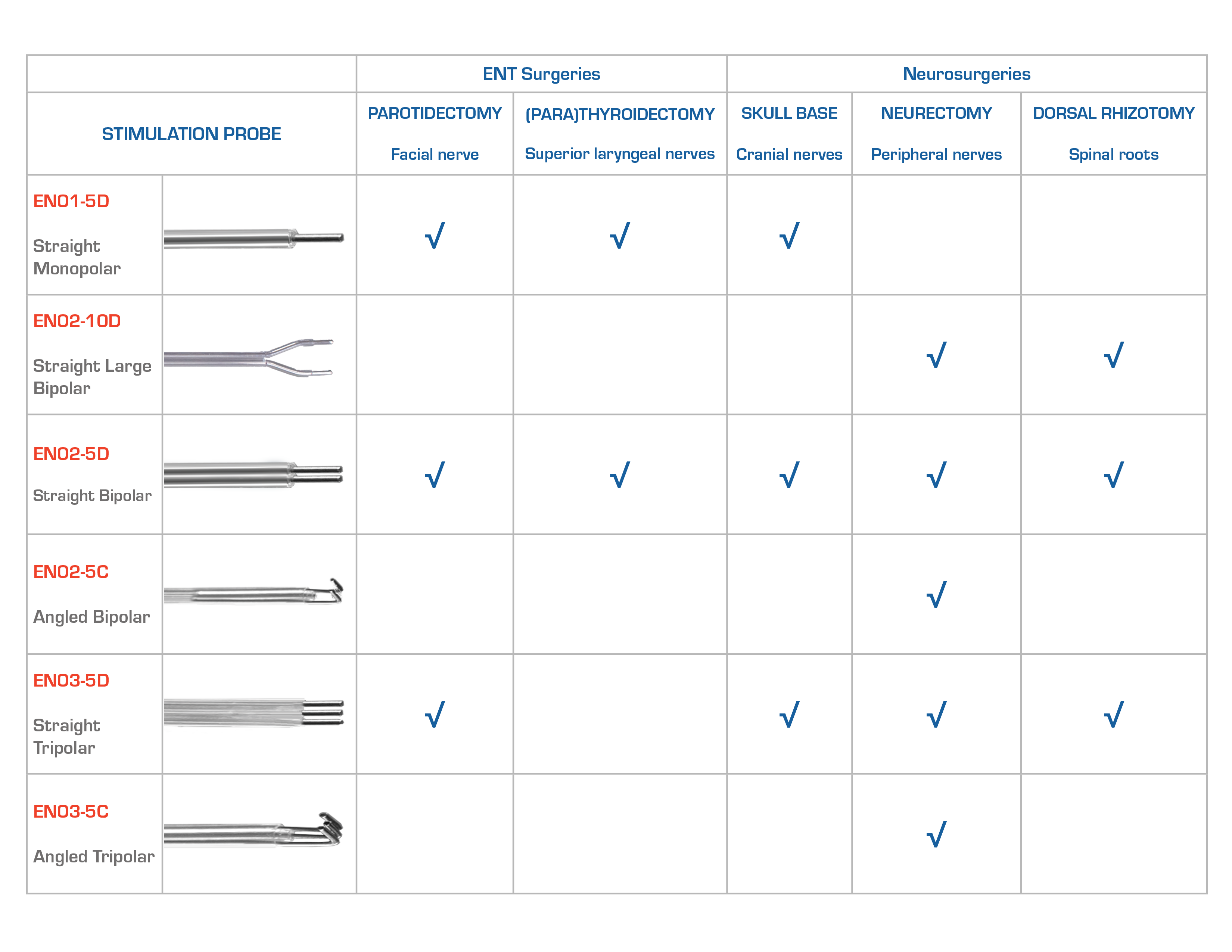 INNOPSYS also offers stimulation electrodes and muscle signal collection in addition to the stimulation electrodes from the i-Care range.
i-Care stimulation probes specifications
CLASSIFICATION AND STANDARDS
CERTIFICATION
NF EN ISO 13485-2016
RISK CLASS
(MDD 93/42/CEE, ANNEXE IX)
Class IIa

NOTIFIED BODY
GMED n°0459
TECHNICAL FEATURES
CONNECTIONS
PLUG
Stimulation extension lead and i-Care adaptor exclusively
DIMENSIONS
STRAND DIAMETER (except EN02-10D)*
0.5 mm
*STRAND DIAMETER EN02-10D
1 mm
CORD LENGTH
2.5 m
HANDPIECE LENGTH
145 mm
STRAND LENGTH
75 mm
PACKAGING
NUMBER OF UNIT/PACK
4
Before using the devices, please read carefully the instructions from the probes instructions manual. These medical devices are health products which have, due to the European regulation, the GMED n°0459 marking.