Since many years, Nirmidas and Innopsys work toogether to offer high tech solutions as Nirmidas Biotech pGOLDTM assay. It is an innovative microarray platform for viral infections screening and protein biomarkers analysis (Zika, Dengue and SARS-CoV-2, among others).
Nirmidas' technology use proprietary gold-coated slides based on nanotechnology. This technology gives superior sensitivity and precision for the detection of sera antibodies developed by infected patients (See Nature medicine and SARS-CoV-2 assay preprint publications).
Finally, to achieve full performance, it is necessary to scan the pGOLDTM assay with a reliable and sensitive scanner. The MidaScanTM-IR detect near-infrared fluorescence. Hence, Innopsys and Nirmidas convened a collaboration to create the MidaScan-IRTM scanner, using key components from Innopsys.
Working together, Innopsys and Nirmidas adapt scanner, software functions and design, to fit Nirmidas' specifications. By doing this, Nirmidas furnished a complete platform for the screening of pathogen infection on patient sera. Consumables and tool are perfectly compatible and adapted to one another.
Currently, Nirmidas provide high performance tests such as the pGOLD COVID-19 High Accuracy IgG/IgM Assay kit . This test enables the simultaneous multiplexed detection of IgG, IgM and IgA antibodies against COVID-19 on patient sera.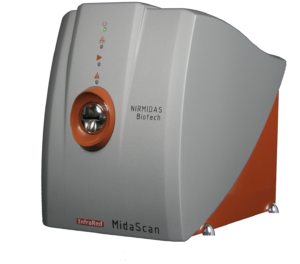 Advantages of Innopsys offer to microarray tests developers:
Complete offer to adapt a scanner model and software to microarray tests.
SAV training. Innopsys trains your own engineers on the use of Innopsys products. So your client can be followed directly by your own.
20 years' experience on fluorescence detection inside.
Need more information about Nirmidas pGOLDTM assay, click here
For further information about Innopsys Scanner offer please contact us