Nimbus i-Care - IntraOperative Neurophysiological Monitoring device
Stimulation for neurosurgery and ENT surgery
The NIMBUS i-Care Light is an IntraOperative NeuroStimulator device. It is dedicated to surgeons for daily use in the operating room, as well as neurosurgery, otology and spine surgery.
The « Stimulation » mode applies pre-determinated and personalized settings which ensure a quick start and secure use of the device by the medical staff.
Easy-to-use
Touch screen and validation button
Intuitive and simple interface
Predefined settings for clinical indication or for personal sessions
EMG box can be positioned on the patient bed
Remote control for distance use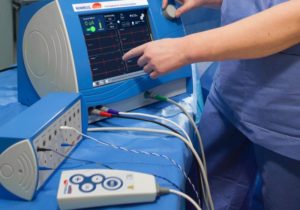 Safe stimulation
Continuous display of programmed parameters, delivered current intensity and measured current circuit impedance
Audible indicator that demonstrates the correct circulation of the stimulation current
Continuous adaptation of the delivered stimulation current regardless the measured impedance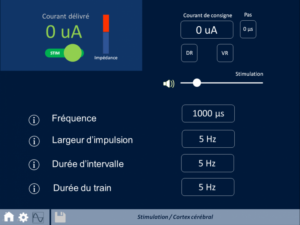 Flexibility
EMG curve recording, saving and data exportation by USB port to computer under PDF and CSV formats
Importation and saving of customized configurations
Continuous intensity setting from the sterile zone via remote control or via touch screen
Modification of each setting: current intensity, current waveform, pulse duration, frequency range, burst duration and inter stimulus interval (burst mode)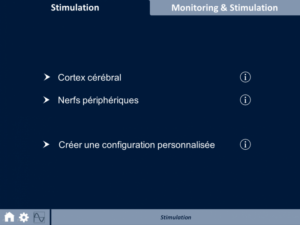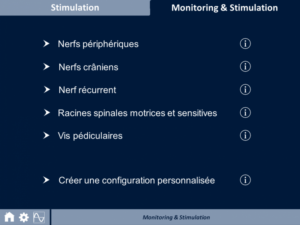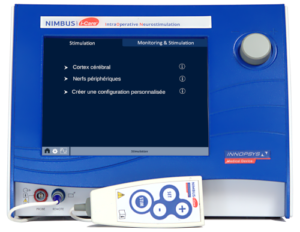 Nimbus i-Care Light
Current intensity range
0 - 16 mA (32 mA peak to peak)

Current Waveform
Rectangular biphasic or monophasic signals
Choice of the polarity for the first phase

Pulse duration range
60 – 16000 µs
Frequency range
1-800Hz
Eport of EMG curves
USB port
Dimensions
36.5*28*27cm
Weight
10.5kg
Before using the device, please carefully read the instructions from the Nimbus i-Care Light user manual.
Medical devices are health products which have, due to the European regulation, the CE 0459 marking.
Operation Tumeur Cerveau CHU Montpellier Pr DUFFAU - 2/2
The 3rd INRC: 'Insular gliomas', a lecture from Professor Hugues Duffau