Efficient and reliable Fluorescence Cell & Tissue Scanner combined with an intuitive workflow.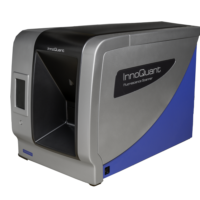 Four-color detection
375, 488, 561 and 640 nm excitation
Pixel size : 0.5 μm
Fluorescent whole-slide scanner
InnoQuant: A Revolutionary Fluorescence Whole-Slide Scanner for Advanced Imaging and Analysis
InnoQuant, a cutting-edge fluorescence whole-slide scanner, is revolutionizing the field of imaging and analysis with its multiplexing capabilities, user-friendly interface, and diverse applications. This advanced instrument is designed to provide researchers and professionals with an efficient, automated, and intuitive process for fluorescence-based imaging in various fields.
Key Features
Multiplexing whole-slide scanning: InnoQuant is capable of scanning four colors simultaneously, eliminating the need for tiling and stitching, ensuring a seamless imaging experience.
7-position filter for each channel: This feature allows for the detection of the most specific signal while reducing fluorescence crosstalk.
Intuitive process and user-friendly interface: InnoQuant's easy-to-use interface and remote control make it a convenient tool for researchers and professionals alike.
Content-based autofocus: The scanner offers completely automated dynamic autofocus that ensures clear and sharp images across the entire slide.
Quantitative fluorescence detection: InnoQuant ensures signal homogeneity during the scan, with the option of choosing between 8-bit or 16-bit multi-resolution TIFF output in a non-proprietary image format.
Applications
InnoQuant's versatile applications include:
Tissue Immunofluorescence: Fluorescence-labelled antibodies highlight the presence of specific antigens directly within a tissue.
Cell Immunofluorescence: Fluorescence immunostaining techniques help track protein expression and activity changes by targeting specific antigens in cultured cells or individual cells.
Plant Autofluorescence: Studying cell functions and organization in plants is made easier with InnoQuant's advanced technology.
Technology
InnoQuant features laser excitation at 375 nm, 488 nm, 561 nm, and 640 nm wavelengths, with 7 emission filters for each channel. It employs 4 independent photomultipliers (PMT) for detection, ensuring no user intervention is required during the process. The dynamic autofocus system to different sample types, offering three focus options: fully automated in-content focus, real-time autofocus, and fixed focus. With a pixel resolution of up to 0.5µm/pixel, InnoQuant ensures high-quality imaging.
Quantitative tools in InnoQuant ensure homogeneity of the signal during the scan, providing options for 8-bit or 16-bit output. The intuitive user interface is designed for ease of use and can be remote-controlled for added convenience. InnoQuant supports a non-proprietary image format, multi-resolution TIFF, making it compatible with various analysis and free software tools.
InnoQuant's Technical Specifications
InnoQuant's technical specifications include laser excitation wavelengths of 375 nm, 488 nm, 561 nm, and 640 nm, with emission filters for detecting compatible fluorophores such as DAPI, Alexa Fluor, Hoechst, DyLight, FITC, TRITC, and DRAQ 5. The device features 4 independent PMT detectors with linear gain from 0.01 to 100%.
The acquisition mode enables 4-color simultaneous acquisition, and the focus mode provides three different options for optimal image quality. InnoQuant is compatible with standard microscope slides and offers adjustable scanning areas up to 26 x 76 mm / 1 x 3 inches. The scanner has a single slide or 24 slide-autoloader capacity, allowing for efficient processing of multiple samples.
Scanning time is approximately 17 minutes for a scan area of 18 x 18 mm / 0.70 x 0.70 inches at a pixel size of 0.5 µm. Images are saved in a non-proprietary multi-resolution TIFF format, and the device features an automatic barcode reader for efficient sample management.
InnoQuant operates with a power supply of 100-240VAC, 1.2 A, 50-60 Hz, and has dimensions of (W) 429 x (D) 696 x (H) 521 mm, weighing 52 kg or (W) 16.88 x (D) 27.40 x (H) 20.51 inches, weighing 114.64 lbs.
InnoQuant's advanced fluorescence whole-slide scanner offers an innovative solution for researchers and professionals in various fields, including immunofluorescence studies, cell biology, and plant sciences. With its multiplexing capabilities, user-friendly interface, and diverse applications, InnoQuant is set to become an indispensable tool for modern laboratories.